Same Place – Different View
I have not done a "Same Place – Different View" blog for quite a while, and we are proud of our students' work, so this is long past due. In this one, we visit some different approaches and viewpoints from our 2013 Summertime on the Maine Coast.
I grew up sailing the Maine coast, as many of you know. It is in my blood, and Arnie has grown to love it as much as I. It is great fun showing the lesser-known spots, as well as the classic iconic locations, to our participants and seeing what they do with the photographic fodder offered them.
There is a small, little-known cove that we always visit. We have gotten to know and become friends with those who live there and have access to many areas normally off-bounds to outsiders. Dinghies are also known as skiffs in Maine, and they populate the docks in all the harbors. In spite of "official" definitions, in Maine, they are not used for sailing, rather as transportion between the shore and the fishing boats. Whatever the term, there is something compelling about them, and photographers generally make a beeline for them.
Dave chose to select a group of four dinghies, cutting off the edge and "breaking the rule" or normally having an odd number of objects in the photograph. He achieved a nice balance, and by cutting off the edges, created some tension and added interest.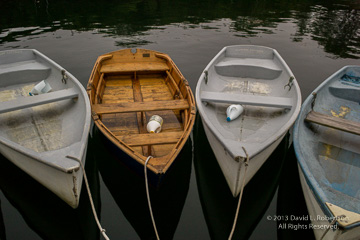 Dave, by the way is teaching our Lightroom 5 workshop in Death Valley in December!
Soraya found the same group but selected two more, placed the darkest dinghy differently, and had the dock edge anchor them. Same place, but a different way of putting the scene together.
In contrast, there is an oft-photographed and -visited lighthouse just down the road from where we stay. It is classic and has some marvelous rocks and rock formations that give it a unique look. People seek out lighthouses and explore them, usually with cameras in tow. Because this particular lighthouse has been photographed so often, it provides a challenge to the photographer to come up with a different viewpoint, especially for those who visited here before.
Jim carefully made his way down onto the rocks to capture the evening light behind the lighthouse, using the rocks to the viewer's eye into the scene. He also was patient to make sure the lighthouse was lit. After all, it is not called a darkhouse!
Denise chose a different vantage point but wanted her scene to be a mysterious, nighttime one, echoing, perhaps, ship ghosts of centuries past before modern navigational tools, that had to really respect and be careful of this area, lest they crash onto the ledges. In this image, a lone person echos the loneliness of the lighthouse, each looking out to sea.
Nikki was attracted to the rays of light captured by the heavy moisture in the air and did a close-up view. Having sailed past this light so often, this echoes that friendly beacon that tells us where we are, yet also warns us to keep a safe distance between us and the rocks.
Yes, again, same place, even the same evening, yet three totally different treatments and effects. Meanwhile, check out the gallery of some of the other photographs our participants made.
Next time: Same Place – Different View from Arches & Canyonlands National Parks
If you enjoy our blog(s) …
Please SUBSCRIBE. It's easy to do by clicking on the appropriate link at the top of the right column.
Comments on the blog are always encouraged and welcome.
We also hope you will LIKE this and SHARE this blog with those interested in photography by clicking on the buttons below. We also hope you will check out these links: